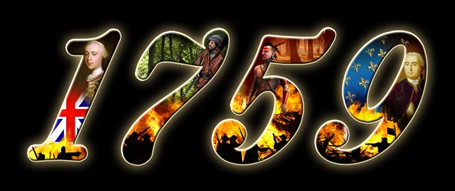 Site Map
Impasse in the French Court
The Declaration of War
The Marquis de Montcalm
Why Make War?

Impasse in the British Courtt
More Important Than Numbers: Determination
James Wolfe
The Pawns Move About the Chess Board
Prelude to War

In New France, the Contradictions Come to a Head.
Canadians in Despair
Corruption Reigns in the Colony
The Leaders Argue
The Sovereign Council Shares Power

Alliances in the Making
Division of Native Peoples in America
Grand Onontio: A Symbol of Protection
The Ritual of Alliance-Making
Tribes Involved in the Conflict

Military Recruitment
Are You Tall Enough
Enlistment
Soldiers' Origins
The Uniform
Soldiers' Wages
The Hierarchy: The Luck of Draw

The Crossing or Mishaps on a Transatlantic Journey
The Soldiers' Origins
What's for Dinner?
Armed to the Hilt
Against Wind and Tide
The Uniform

The Resistance Organizes
An Impregnable City?
The Same, Not the Same
All is Fair in War
The Militiaman's Uniform
Supply Difficulties

The Warpath
The Warrior's Motivations
Formidable Weapons
Getting Ready to Fight
Shared Views
Tactics of War

A Defensive Strategy
Defensive Works
A Forced Truce
Then the Waiting...
The Attack at Montmorency Falls

A Change of Strategy
A Somber Cortege
Life in Camp
Man Your Cannons. Ready! Aim! Fire!
Harmless Fire Ships
Endless Bombardments

Caught Between a Rock and a Hard Place
The Terror Continues
An Ill-Fated Roll of the Dice
Demoralized Troops
Wounded and Homeless Increases Daily

Effective Harassment
Those Too Sure of Victory are Bound to lose
Those Amerindians are a Hard Act to Follow
Double Standards

Red Alert: The Enemy is at Hand!
The Flag: Identity and Signal
Cartridge Making
Taking Care of the Wounded

The Final Assault
British Discipline
A Daunting Adversery
The Flag: Identity and Signal

Nothing More To Lose
A Army Within a Army
Borrowed Tactics
The Tuque: Identity and Signal?

From Ambush to Skirmish
Terrifying Warriors
Two Distinctive Traits: Patience and the Scalp

The Die is Cast
The Battle of the Plains of Abraham

Home Links Credits Glossary Teaching Guide Sources Contact Us Version française
© The National Battlefields Commission 2021