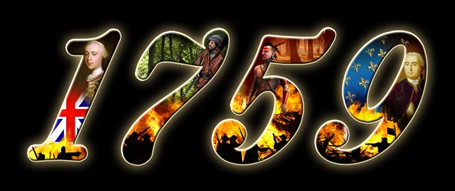 Teaching Guide
In 2005, The National Battlefields Commission (NBC), in collaboration with the Virtual Museum of Canada (VMC), presents 1759: From the Warpath to the Plains of Abraham, a new recreational/instructional virtual reality challenge. This exciting interactive adventure sends out net surfers to the year 1759 to let them relive, alongside the French, British, Canadians and First Nations, the ups and downs of a fight to the finish for the conquest of America, an outstanding episode of the country's military history. In 2021, the NBC revisits this exhibition with renewed visuals and some historical updates.
The 1759 game highlights the actions of these two Empires, their repercussions on the colony's inhabitants and the involvement of the First Nations in this challenge of the utmost importance for the continent. Four different visions beating to four different tunes. Let these visions guide you through all the crucial steps of this war: its background, preparations, the siege of Quebec and the battle of the Plains of Abraham. A clever mix of lively interactive games, of videos featuring the players of the period, illustrated narratives, evolutionary comic strips, period music, interactive maps… all sumptuously presented in settings that show in minute detail the intricacies of this troubled era. An engrossing virtual game intended for all audiences, at the centre of events and places, of customs and preparations of war.
In all, 67 activities (available in English and French) allowing net surfers to interact and actively participate in the game as it unfolds. Nearly three hours filled with fun and entertainment. The player can fill out a registration card to enrol (provided his or her size is consistent with strict army standards), discover where the regiments are from, read and print the genuine declaration of war made by France, understand the various alliances, listen to General James Wolfe and the Marquis de Montcalm explain why they are both convinced that they will land the victory, try to guess what combatants ate and what they did to pass the time, what weapons were used by the First Nations, find out how to dress a soldier properly, listen to four witnesses from the period give their account of the battle… all this illustrated with iconography and contemporary reconstruction, laced with ambient sound and music reproduced by re-enactment groups, the Fraser Highlanders on bagpipes and the Compagnie Franche de la Marine on fifes and drums.
A glossary will be made available to fans who would like to learn a little more, and real enthusiasts can consult a comprehensive bibliography on the subject. What will become of the participants after the battle of the Plains of Abraham is over? You can find out in the epilogue. But, above all, what you will understand is the strategy behind this conflict and the significant role played by each of these stakeholders, in other words, yourself!
Home Links Credits Glossary Teaching Guide Sources Contact Us Version française
© The National Battlefields Commission 2021